---
MARCH 10, 2018 - 2:53 CET
A WAY TO REBOOT
"To rebuild trust, we must understand that the United States is more than Washington and Washington is more than the current president. Transatlantic relations are more important than the president there or the political leaders on this side. We need each other because we share values."
- Cem Özdemir, Member, German Bundestag
---
MARCH 10, 13:15 CET
STOP DREAMING OF EASY SOLUTIONS
This momentum for Euro-Atlantic integration will be a combination of factors, such as reforms in aspiring countries, including Ukraine, as well as growing awareness of common threats and a realization that only a common response could be efficient. 

Just yesterday, Ukraine finally received a proper recognition of its ambition for NATO future membership, which means that our Euro-Atlantic aspirations are adequately perceived by the Alliance. There is a long path to the membership that we can successfully achieve if we deliberately change the country according to democratic, social, economic, political, and of course, military principles and the approaches of NATO member states.

 Each reform that we implement is important not only for Ukraine, but it also gives a new breath to the Euro-Atlantic community by providing our partners with very much needed reminder of their ability to affect meaningful positive change. However, today it is not enough to inspire a peaceful transition, it is also essential to stand tall to the rough and hateful behavior of violators of those values.

 The Euro-Atlantic community needs to stop dreaming of easy solutions and continue being united around the values of democracy and freedom, and realize along the way, that aspiring nations will only positively contribute to common security and prosperity. Thus, there is a mutual interest and need to widen transatlantic family.

 I'm sure, that at the end of the day, our Euro-Atlantic partners would have to summon the courage and get down to their commitment to Bucharest Summit Declaration, which states that "Ukraine and Georgia will become NATO members."
— Ivanna Klympush-Tsintsadze, Vice Prime Minister for European and Euro-Atlantic Integration, Ukraine
---
Congrats @gmfus for a very successful 2018 edition of the #BrusselsForum. 

Belgian MFA proud to be a partner of the GMF Brussels Forum since 14 years, supporting #transatlanticrelations. pic.twitter.com/fL4PUGO5ls

— didier reynders (@dreynders) March 10, 2018
---
Norbert Rottgen of the German Bundestag shares what one policy he would reboot in this time of distrust. #BrusselsForum #BFHighlights pic.twitter.com/IIWHSvjCkJ

— German Marshall Fund (@gmfus) March 10, 2018
---
MARCH 10, 2018 - 11:30 CET
LET'S FIX OURSELVES
The first thing we need to do is fix ourselves in the West. We have fractured societies, distrust in our elites, elites that don't listen to the population, populists, demagogues — we've got a lot of issues. We need to get re-anchored around core values that unite our societies: democracy, market economy, rule of law, human rights, security, opportunity. These are things that everyone cares about and we need to rally around those. The second thing is to recognize that we're no better than anyone else. If you have Ukrainians, Georgians, and Moldovans who want to see the things in their societies, they have every right to achieve and develop those things, and frankly, we should be trying to help them. It should be an outward-looking approach of trying to see everybody successful. If you do those things, then the issues of integration and enlargement flow from that. We work on our societies, you build something better, and then it's a natural progression.
— Ambassador Kurt Volker, Special Representative for Ukraine Negotiations, U.S. Department of State
---
A MUST EAT WHEN VISITING BRUSSELS: WAFFLES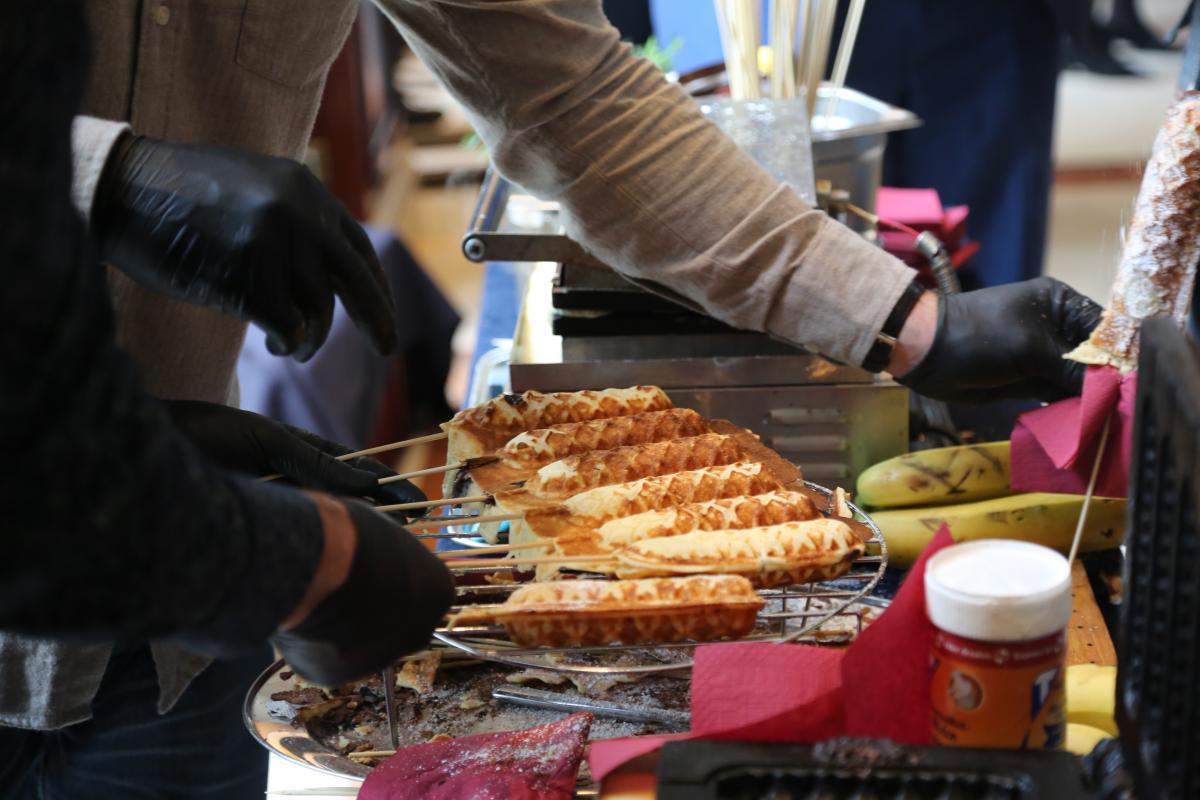 ---
MARCH 10, 2018 - 9:30 CET
OPPORTUNITY
The problem of inequality is only going to get worse as we move into an era where increasingly robots and other machines replace the jobs that people have traditionally had. Giving people the assurance that they can have a dignified life, the basic income and health care needed to sustain a family is going to become more important, not less. I am wary of solutions that try, as opposed to this floor of basic security, to put a cap on higher taxes and other limits on inequality on the top. Equality of opportunity needs to be real and people need to examine carefully the obstacles to this equality: hiring policies and admissions at universities with hidden but real discrimination. Two things to think about: the traditional remedy, quality of opportunity, and how to provide a basic income guarantee in a world where as many as 60 percent of job categories, it's said, can be replaced by machines.
— David Ignatius, Columnist, Washington Post
We need to rethink our education opportunity so children can succeed regardless of their family backgrounds. Care and attention to their individual needs, and encouragement to succeed.
— John Frank, Vice President of EU Government Affairs, Microsoft
---
"Europe is still the first place we go when we try to solve a problem in far off places." @ChrisMurphyCT speaks with @RJLewisGMF GMF's #BrusselsForum. Watch our sessions here: https://t.co/Xgk9ZVmC2o pic.twitter.com/iwiQOuhE0M

— German Marshall Fund (@gmfus) March 10, 2018
---
---
.@AnnwieAnna of @AtlanticCouncil calls for a "new transatlantic bargain" to rebuild trust between the U.S. and Europe. More highlights from our "On the Margins" live blog: https://t.co/Mj0amk6kbT #BrusselsForum pic.twitter.com/UiRzjClLaC

— German Marshall Fund (@gmfus) March 9, 2018
---
SNEAK PEEK AT OUR PODCAST STUDIO WITH NIK GOWING AND MICHELE FLOURNOY
---
Cybersecurity is one single most important issue that will decide whether the European industry will catch up, says @bueti. Need to protect #SMEs that drive growth in the EU @gmfus #BrusselsForum

— Patryk Pawlak (@patrykpawlak) March 9, 2018
---
MARCH 9, 2018 - 11:55 CET
ADAPT, DON'T STOP GLOBALIZATION
We cannot throw the baby out with the bathwater. We cannot try to address inequality by stopping globalization. We need to foster globalization while considering some of its negative impacts. The solutions for inequality need to be found at national, regional, and local levels, not through global solutions. We need to adapt some of the aspects of globalization in terms of the fairness of trade but not shut the doors of the countries to globalization in order to create fairness, because that will not work. The second aspect is the issue of technology. Technology plays a huge impact in economic activity: creating or destroying jobs. There is no single policy to address that problem; there needs to be a mix of policies.
— Ambassador Joao Vale de Almeida, EU Delegation to the UN
---
MARCH 9, 2018 - 11:35 CET
OPPORTUNITY AND COHESION
For economic equality, we should address two policies: first is to try to create equality of opportunity, particularly through education and the removal of bias in the system. The second is to make sure that we continue to have social cohesion in our countries so when there are inequalities, there is an approach for the redistribution of wealth and a sense of national collective identity and purpose. If people feel they are being excluded from that, then our economies and societies will suffer.
— Simon Fraser, Managing Partner, Flint Global
---
"Building the next wave of transatlantic leaders who care deeply about technology and look for ways to collaborate going forward" - I like the sound of that @gmfus #BrusselsForum

— Sandro Gianella (@sGianella) March 9, 2018
---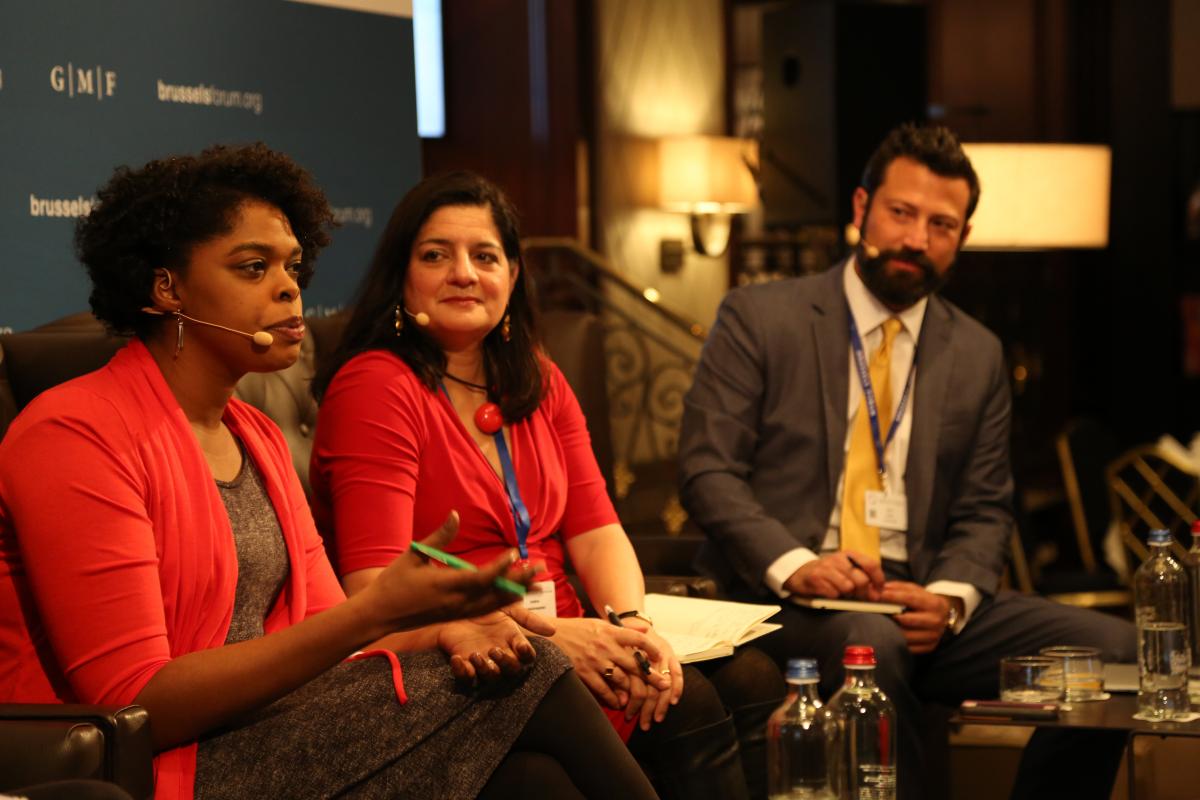 ---
MARCH 9, 2018 - 9:35 CET
MEDIA NEEDS PRESSURE
There needs to be pressure on social networks to give more data and be more transparent. The pressure needs to come from government, but not with legislation — there needs to be a lot of care with legislation. I don't think it would happen the same way in the U.S. as it does in Europe but there has been legislation in Germany and in France there are talks on fake news. It's a very dangerous thing because what message does that give to other countries? With legislation, if more and more countries are legislating on fake news, that gives a message to countries, "we can make a law that will let us do whatever we want and any foreign media giving any other opinion can be fined." It's difficult to know how to give that pressure without legislation but in terms of data transparency there is so much more that can be done.
— Sophie Nicholson, Social Media Editor, AFP
---
. @gmfus #BrusselsForum Breakfast: Bursting Information Bubbles - talking about Fairness, Fact Checking and Fortifying Public Trust in the Press with @Indira_L @Sohnic @Shawna & moderated by @DefenseOne @DefenseBaron pic.twitter.com/L7qEleYSS3

— YATA International (@YATAInt) March 9, 2018
---
MARCH 9, 2018 - 00:15 CET
POLITICAL REFORM
The fundamental reason for distrust comes from the lack of legitimacy by national units from the people. The policy area we need to address is political reform. We need to look at gerrymandering in the United States, electoral reform in the United States and Europe, and we need to reintegrate governments with peoples in order to transfer that sense of faith and legitimacy in institutions to our international pacts.
— Patrick Hanley, Student, University of Chicago; Young Professionals Summit
---
MARCH 8, 2018 - 23:30 CET
MILLION DOLLAR QUESTION
We need to reboot the question of global governance. We have a global governance architecture that was essentially based on a particular configuration of power at the global level, essentially centered on the West. We know that we are moving into a world in which that configuration of power will no longer be the case. That will necessarily mean different forms of global governance and we probably know that future form of global governance will not be liberal in nature because the powers that will underly it will not necessarily be liberal. What is that minimum benchmark, minimum standard of the norms and values that have to be embedded in the global governance system of tomorrow is the million dollar policy question for the next century.
— Nathalie Tocci, Director, Istituto Affari Internazionali
---
MARCH 8, 2018 - 23:00 CET
DIGITAL, DIGITAL, DIGITAL
From the European angle, we should focus on migration, border control, security. Those are the focus areas that need to be sorted out. If I look at the global: the rules of the digital world. Digital trade, digital security, digital free trade arrangements will be critical in the shape of the global economy and global security system ten, twenty years down the road.
— Carl Bildt, Co-Chair, European Council on Foreign Relations
---
#BrusselsForum Polish PM @MorawieckiM says that the "Holocaust law" is to protect PL against statements like "Polish Gestapo", "Polish SS". Unbelievable. I have never heard anybody saying something like this!

— Bartłomiej E. Nowak (@BartENowak) March 8, 2018
---
This year, #BrusselsForum practises a timely new format: female only panels. I know a few conferences, including Green ones, that could learn from that. ;-) #InternationalWomensDay

— Reinhard Bütikofer (@bueti) March 8, 2018
---
MARCH 8, 2018 - 18:25 CET
RECOMMIT TO SHARED VALUES AND INSTITUTIONS
In this time of distrust, we must address two things: one is recommitment to some of the shared values – democracy, an open international system, and free trade should maintained and strongly supported at this stage. Two, the institutional and the elite ownership of the transatlantic relations. One thing that we are seeing in recent times is weakening is institutions, and the elites do not seem as committed to the relationship as they used to be.
— Galip Dalay, Director of Research, Al Sharq Forum
---
#BrusselsForum Rebuild Transatlantic Trust all female panel in honor of #WomensDay

Opening remarks by @gottemoeller w/ @AnaGomesMEP @micheleflournoy & moderated by @InesPohl @gmfus pic.twitter.com/JwQR4BpxCE

— Theresa Fallon (@TheresaAFallon) March 8, 2018
---
MARCH 8, 2018 - 18:10 CET
WHO WILL DEFEND THE EAST STRATCOM TASK FORCE?
Since January, there has been a crisis in the East StratCom team in the External Action Service of the Europen Union. The East StratCom team has been very successful in responding to the Russian information war, fake news, and propaganda. Now they have been unfairly attacked in the Netherlands, there is even a lawsuit. There was no one from the External Action Service who was allowed to or willing to respond to these unfair accusations on Dutch television – where is the External Action Service when it comes to defending their own people who are doing important work?
— Roland Freudenstein, Policy Director, Wilfried Martens Centre for European Studies
---
GMF's partnerships make #BrusselsForum an event that represents all sectors across the transatlantic space. @Bruno_Lete chats with @lombardiCJ about BF's value for our partner @Raytheon pic.twitter.com/1ridbY69JD

— German Marshall Fund (@gmfus) March 8, 2018
---
MARCH 8, 2018 - 16:55 CET
WHAT REALLY IS PESCO?
I think what is really important is the development of European defense policy. Mogherini addressed it and it is moving rapidly forward. How fast that will end up going past this year is still a question, so I think it would be a great topic to address and I don't think that anybody really has the foggiest idea what PESCO is, other than the real insiders.
— Gale Mattox, United States Naval Academy
---
MARCH 8, 2018 - 16:45 CET
GOING BEYOND TALKING
These kinds of gatherings are very useful because they bring together inside policymakers with outside world. Having said that, it's important that we go beyond talking about problems and try, to the extent it is possible, to come up with concrete solutions.
— Paul Adamson, United Kingdom
---
"We (the EU) believe in free trade" says Mogherini. Really? #BrusselsForum

— Joan Hoey (@JoanHoeyEIU) March 8, 2018
---
"If this were my Insta the caption would be 'Brussel Sprouts'" says guest insta editor @CapehartJ. Welcome to the #BrusselsForum, y'all. @gmfus pic.twitter.com/B3XsN5IWPY

— Kevin Baron (@DefenseBaron) March 8, 2018
---
Karen Donfried kicks off the 13th #Brusselsforum with a call to "Revise, Reboot and Rebuild" the transatlantic relationship.
Currently undermined by loss of trust internally as much as risks externally. @gmfus pic.twitter.com/IBYjjPUrE3

— Robin Niblett (@RobinNiblett) March 8, 2018
---
POLISH PRIME MINISTER MATEUSZ MORAWIECKI JOINS GMF'S BRUSSELS FORUM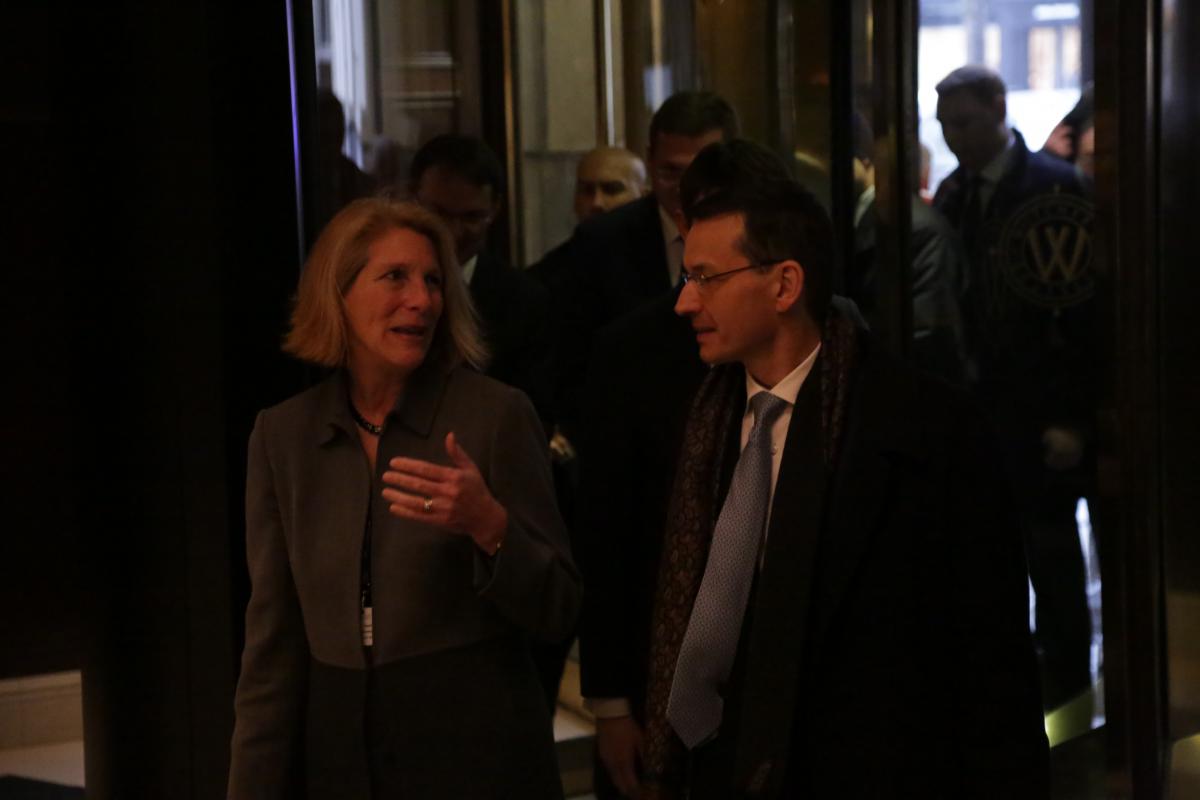 ---
MARCH 8, 2018 - 14:25 CET
GEORGIA'S VOICE
I think that the most important thing at Brussels Forum, from my perspective, since I'm from Georgia is just contributing more of my personal voice. It's an overall message that we are giving to the world: we are on the same page, we are a freedom loving society, and respect human rights, freedom of expression, etcetera. Therefore we are members of the same family, and that I think is the greatest mission and greatest job I have ever done.
— Victor Kipiani, Partner and Co-Founder, Mgaloblishvili Kipiani Dzidziguri
---
Stars ⭐️ and @stripe for discussion on transatlantic relationship in Brussels over the next few days (sorry, couldn't resist) #brusselsforum pic.twitter.com/enJwiOHOHn

— Sandro Gianella (@sGianella) March 8, 2018
---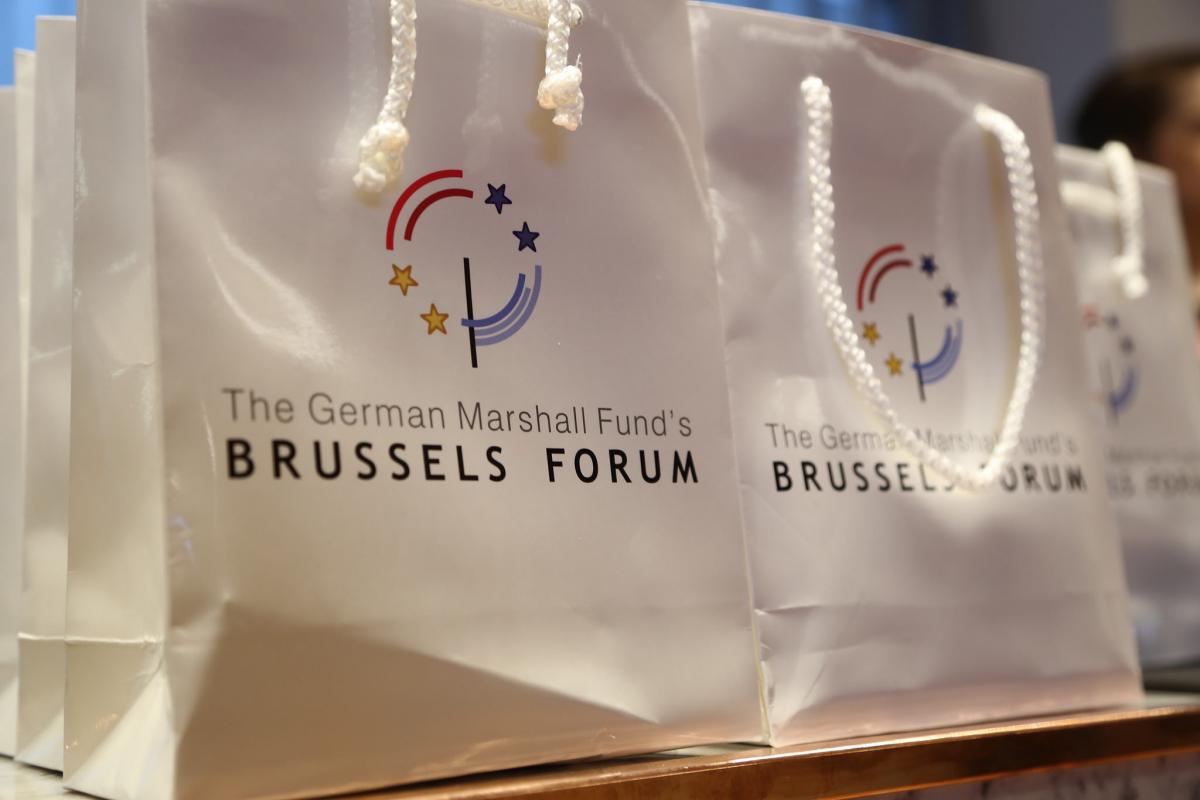 ---
Have a feeling this will be a hot topic at #BrusselsForum next week. #Follow me there w media friends like @CapehartJ @SCClemons @Indira_L @IgnatiusPost and more. @gmfus https://t.co/bJeFljnQCb

— Kevin Baron (@DefenseBaron) March 3, 2018
---
Join us on March 9th at 10am ET for a #debate from the #BrusselsForum: #Humanitarian Intervention Does More Harm Than Good https://t.co/cOtgX5GHX1 #IQ2USLive @gmfus

— Intelligence Squared (@IQ2US) March 2, 2018
---