On the Margins: Combating Russian Interference
Ahead of GMF's Brussels Forum, the Alliance for Securing Democracy brings together senior officials to discuss lessons learned and best practices in the effort to combat Russia's interference operations in democracies across the transatlantic space. While Russia's use of such operations in the United States is a more recent development, Europe's long history of combatting Russian meddling means that there is much the United States can learn about how Europe is responding to this activity.The agenda includes three interactive panels: one focused on country-specific recommendations, one focused on the role civil society can play in working with and complementing government-led responses, and another on the role of the EU and NATO.
Return to the Live Blog Main Page »
---
MARCH 8, 2018 - 13:45 CET
HOW SHOULD THE WEST BETTER PROMOTE DEMOCRACY?
I think finding the language, setting the priority to address this by promoting the values of the west, as well as media literacy, so people understand first how to deal with information and second that there is this problem that media might manipulate. It looks like sometimes we have this parents to child attitude, especially with diplomats, we need to do something and we need to promote values. But maybe we all speak it in a different language. The populace, for example, find out how to speak with them, but we still don't know. So I think it's a question how to bring this issue to the common level, and when we are able to do that, I think that works. This is not just a Ukraine-Russia problem or others, this is a connected issue. We need this common strategy not just on paper but also applied. Not for us just to talk but to actually work and share as countries this information.
— Margo Gontar, Co-Founder & News Anchor, StopFake.org
---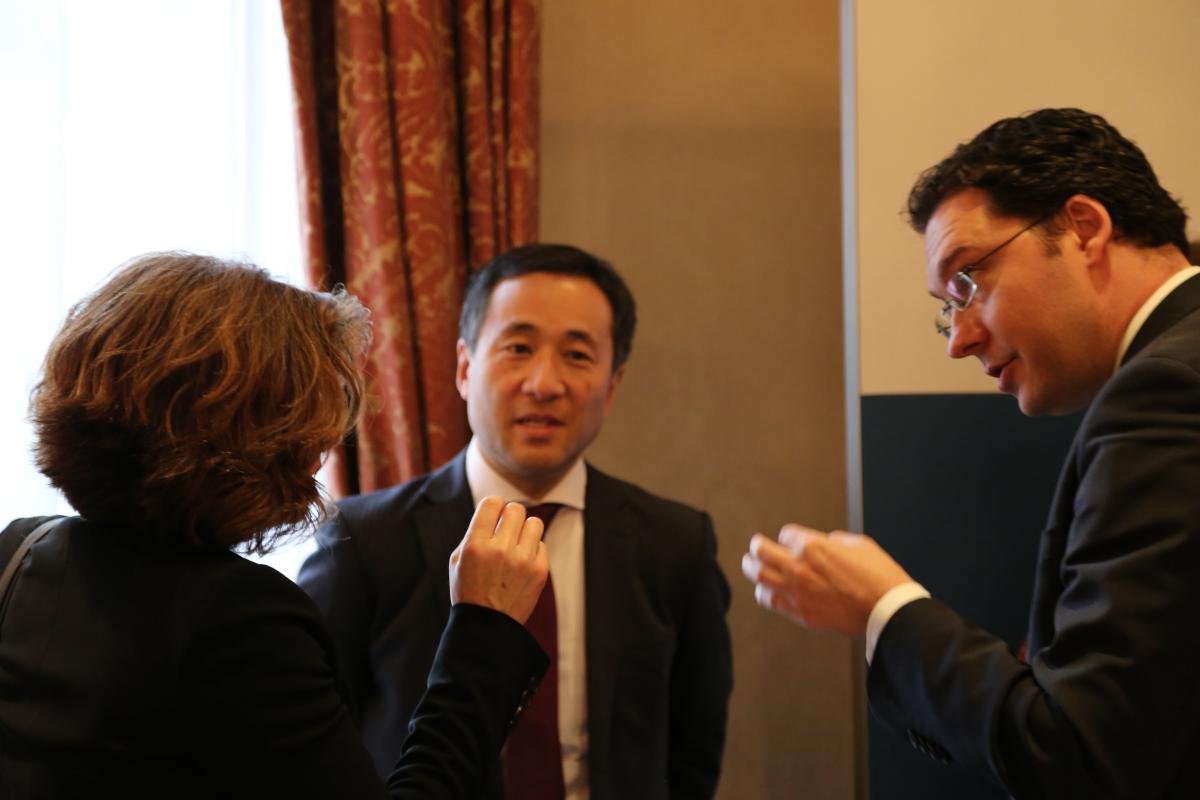 ---
MARCH 8, 2018 - 13:40 CET
CIVIL SOCIETY'S ROLE IN COMBATTING FOREIGN INTERFERENCE
The first most important step is to raise awareness among the general public and among professionals. The second is to build inter and intra-sectoral relations to other NGOs who are not necessarily involved with geopolitical activities, but are focused more on domestic issues whose area of activity is also affected by the Kremlin. Enhancing cooperation between human rights NGOs, even reaching out to NGOs in Russia helps a lot in countering Russian cultural or political efforts because they have experience with an oppressive system and certain elements of a legal, political forum already apply.
— Lorant Gyori, Geopolitical Analyst, Political Capital Policy Research and Consulting Institute
---
On the margins of GMF's #BrusselsForum 2018: @rosenbergerlm & @jamiemfly from @SecureDemocracy discuss combatting #Russia interference in our democracies: https://t.co/2ysN5lCNxJ pic.twitter.com/iAaCE9zpLc

— German Marshall Fund (@gmfus) March 8, 2018
---
MARCH 8, 2018 - 13:30 CET
FOREIGN INTERFERENCE VERSUS DEMOCRACY PROMOTION: IS THERE A DIFFERENCE?
Basically one of the biggest challenges for us right now when we are trying to identify what is going on the world scene in general is the idea that some people in the Western democracies say, "well we basically tend to interfere another country's affairs, especially when it comes to democracy promotion. So Russia is doing that to us now — what's the difference?"
The challenge is that a lot of people see it as moral equivalency, this mutual interference. And it's not: they are two completely different things. One thing is promoting good governing practices, which proved themselves as good governance practices. The other thing is destructive practices, which basically destroy the fundamentals of good governance. So basically in the end we always arrive to the moment in which you need to recognize what is good and what is bad, what is right and what is wrong. If transparency is something that we can see as good, shadiness in economy and corruption are bad. Russia promotes corruption and shadiness in the economic area. Europe and the West in general, and the United States would promote transparency in governance, would promote human rights. Russia is destroying human rights, and we see that every day, destroying freedom of speech, destroying freedom of assembly, destroying the freedom of people to express their own opinion. That is what they are promoting in our world. The two ways of interfering are completely different. One is administering good governance and democratic practices; the other one is basically administering poison.
When we speak of immigration, people do not run away only from guns and civil wars. People run away mainly from corruption, mainly from lack of rule of law or lack of freedom of speech, the fact that they could be arrested and tortured and harassed for expressing their opinion, lack of economic opportunities. These all are results of bad governance and lack of democracy. The more democracy and good governance practices would promote, the less people will have the desire to migrate towards democratic countries, because themselves would be satisfied where they are.
— Daniel Mitov, Former Bulgarian Foreign Minister; Brussels Representative, National Democratic Institute
---
On #IWD2018 I am warming up for #BrusselsForum by discussing how to combat Russian interferrence with @NATOildemT and MEP David McAllister. Looking forward and thanks for organizing! @rosenbergerlm @gmfus @ACFutureEurope @AtlanticCouncil @AFF_sweden #säkpol #NATO #EU #US #svpol

— Anna Wieslander (@AnnwieAnna) March 8, 2018
---